Cereal Killer Cafe
Cereal Killer Cafe
Innovation in the restaurant sector takes weird dimensions, and yet there are markets for the most bizarre services. Cereal Killer Café in London is one of these. The concept is simple. The café serves a large variety of breakfast products, everything, nearly that go with milk on top. 120 different kinds of cornflakes, 13 types of milk, and a large number of "toppings".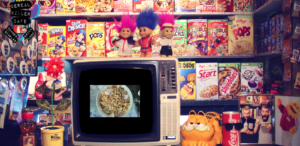 It is not just handling the contents of standard packages over the counter. The café has created a number of interesting combinations that might surprise customers otherwise used to their own kitchens' dull breakfast product shelves. For example " s'more than words" which is golden grahams, marshmallows and chocolate milk. Or "miss american pie" applejacks, apple cinnamon cheerios, whipped cream, digestive biscuit and custard milk.
The décor of the restaurant leads the customer in to "Memory Lane", how it was to be a kid, all the gadgets that went with cereals, the advertisements bringing one back in time. To enhance memory, the cafe provides also cereal merchandise for sale.
Video presenting Alan restaurant entrepreneurs Gary and Alan.