Coiling Dragon Cliff Skywalk: Reframing the Walkway Experience
Coiling Dragon Cliff Skywalk: Reframing the Walkway Experience
The Coiling Dragon Cliff Skywalk is a 100-metre-long, 1.6 metres wide glass pathway on the side of Tianmen Mountain in the Zhangjiajie National Forest Park in Hunan province in China [1]. Opened to the public on 1 August 2016, the Coiling Dragon is the third, and latest, glass skywalk on Tianmen Mountain [1] [2]. The dramatic walkway overlooks Tongtian Avenue, or "Avenue to the Sky", a mountain road with 99 turns that snakes up Tianmen Mountain [2, 3]. It also offers a dizzying view of the 1500 meter (4700 feet) vertical drop directly under the clear glass floor [1]!  View a short clip about it here.
The Coiling Dragon Cliff Skywalk is a product innovation. Product innovations are "changes directly observed by the customer and regarded as new…[as in] never seen before, or new to the…enterprise or destination" [4]. Specifically, through clever use of materials, the glass walkway provides a thrilling experience quite different to that from using a traditional solid walkway or bridge.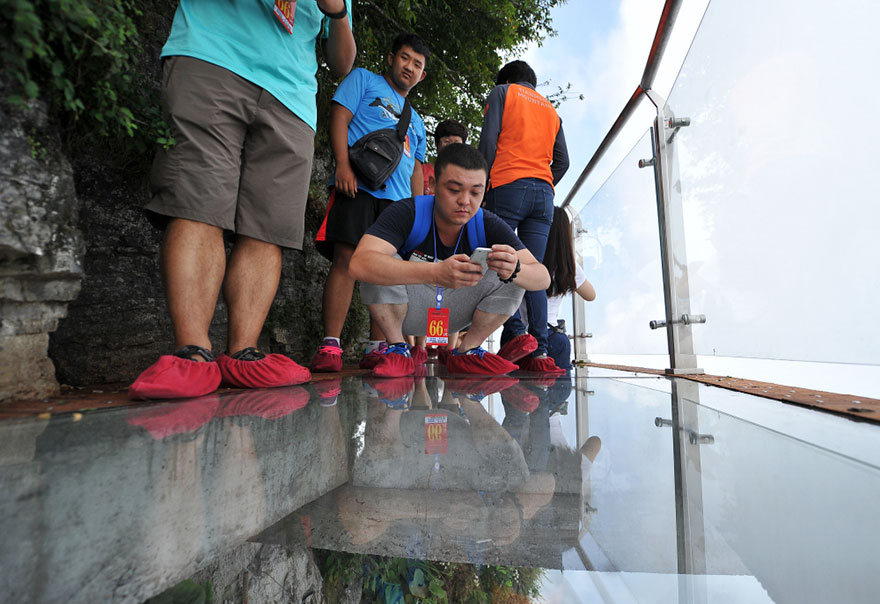 As one commentator says: "The fact that it's attached 4,600ft (1,403 metres) up the side of a mountain is scary enough…the fact that it's also made of glass is nothing short of terrifying…. but anybody who finds the courage to brave the walkway will be rewarded with an utterly breathtaking view that few will ever experience" [5].
Recommended Citation:
Reid, S. R. M. (2016). Coiling Dragon Cliff Skywalk: Reframing the Walkway Experience. INNOTOUR Innovation Cases. From https://www.innotour.com/innovationCases/?p=3575
References
Martin, J. Incredible 100-metre-long Coiling Dragon Cliff skywalk opens to public in China. 2016 2 August, 2016 at 4:58 pm 4 December 2016]; Available from: http://www.lonelyplanet.com/news/2016/08/02/100-meter-long-coiling-dragon-cliff-skywalk-opens-public/#ixzz4Roqjy87Q.
Wu, E. China's cliff-clinging glass skywalk opens to public. 2016 4 August 2016 5 December 2016]; Available from: http://edition.cnn.com/2016/08/02/travel/china-tianmen-mountain-glass-skywalk/.
Sweet TV, China Tour | A New Glass Walkway Called The Coiling Dragon Cliff Skywalk 2016, CCTV America.
Hjalager, A.M., A review of innovation research in tourism. Tourism Management, 2010. 31(1): p. 1-12.
Gould-Bourn, J. Terrifying 4,600ft Glass Walkway Opens In China, And Just Looking At The Pics Will Give You Vertigo. 2016  5 December 2016]; Available from: http://www.boredpanda.com/glass-bridge-tianmen-mountain-zhangjiajie-national-forest-park-hunan-china/