"Cold Hawaii" promotes tourism in Klitmøller
"Cold Hawaii" promotes tourism in Klitmøller
At first sight Klitmøller appears to be a drowsy town in a peripheral region. But due to the strong wind and great waves Klitmøller has become a popular tourist destination especially among surfers. The harsh weather provides great conditions for wind- and kitesurfing, and the destination is known as Cold Hawaii. Cold Hawaii is internationally recognized as one of the five best wind- and kitesurfing destinations in Europe due to the many great surf spots within short distance.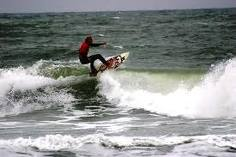 Klitmøller have managed to take advantage of the goods that nature brings and focus on possibilities rather than limitations. The destination cannot compete on sun all year round instead it promotes itself on windy weather and waves. And it works. Surfers from Germany, Holland, Norway and Sweden travel to Cold Hawaii and the destination is also well known in Asia even amongst surfers that have not yet visited Cold Hawaii.
Cold Hawaii plans to become the hub for windsurfing in Northern Europe. As a mean to reach the goal the destination plans to arrange big events annually to attract even more surfers. And in September 2010 Klitmøller hosted The KIA Cold Hawaii PWA World Cup.
When the first surfers visited Klitmøller over 20 years ago the prospects of Cold Hawaii were limited as the surfers were not popular among the locals as the surfers lived in their Volkswagen buses on public areas for longer periods of time. 10 years ago a new generation of surfers emerged and they had more money and behaved differently and at the same time Danish surfers moved to the area, which resulted in dialogs between the locals and the surfers. The new arrivals along with more surfers revitalized the area and created potentials for tourism development and Klitmøller has grown to be a great tourism destination due to the Cold Hawaii image.