CSR innovation: Hotels against trafficking
CSR innovation: Hotels against trafficking
Flora Hotel in Gothenburg Sweden has declared itself a "fair sex hotel". It is a partner in the business movement "Hotels Against Trafficking". Aligning with the campaign manifests that the hotel does not turn a blind eye to prostitution. Communication also helps the hotel to position itself on the market and tell the world about its CSR commitment.
CSR is developing continuously, and the Swedish based Realstart.eu is a supporting organization that helps a variety of enterprises adopt their practices and combine the efforts of campaigning.  RealStars is a non-profit organization that was started in 2010.  The organization works against trafficking both within Sweden and in the EU by creating public awareness using campaigns based on the Universal Declaration of Human Rights. During its operation, it became clear that tourism and travel are main sinners in trafficking, and many tourism enterprises do – or involuntarily or due to lack of attention – support activities are are not fair.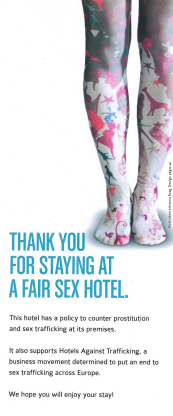 In practice hotel staff is training in how to spot customers and activities related to prostitution. They get to know when and how to communicate with the police. Hotel Flora's checklist for receptionist is as follows:
Get legitimation from all users of the room
In case of suspicion of prostitution, make notes of time, appearance, language etc
Give a tip to the police
Do not be afraid of holding back rooms, taking your time, as it may "disturb" the  activity of prostitution.
Hotel Flora customers have received the initiative very well, and they have turned out to be willing to support realstars with donations. The Hotel Flora has planned, when relevant, to suggests to either upgrade their room or to donate to stop trafficking.