Dance to save the earth
Dance to save the earth
Heard about "eco-clubbing"? Now, bars and discotheques are getting more climate sensitive. Surya Bar at Kings Cross, London, has implemented a dance floor that produces electricity when compressed by dancers. The current is loaded in batteries that help offset some of the electricity bill and thereby carbon footprint. Other initiatives include, according to the website of the club:
Exclusive use of only poly-carbon cups, the most environmentally friendly available drinking apparatus.
Recycling of all glass, metal, plastic and paper products used at the bar.
Donation of part of the profits to a registered and recognised environmental or animal welfare charity.
All customers attending the club who can demonstrate that they travelled there by foot, cycle or public transport receive free entry.
Use of low voltage lighting.
Tables are made of magazines, the walls out of old mobile phones
here's a bathtub-cum-sofa.
Waterless urinals save 90 gallons of water, and the club gathers rainwater.
The wine is also fairtrade and organic.
All patrons when entering the club should sign a pledge to work towards curbing climate change.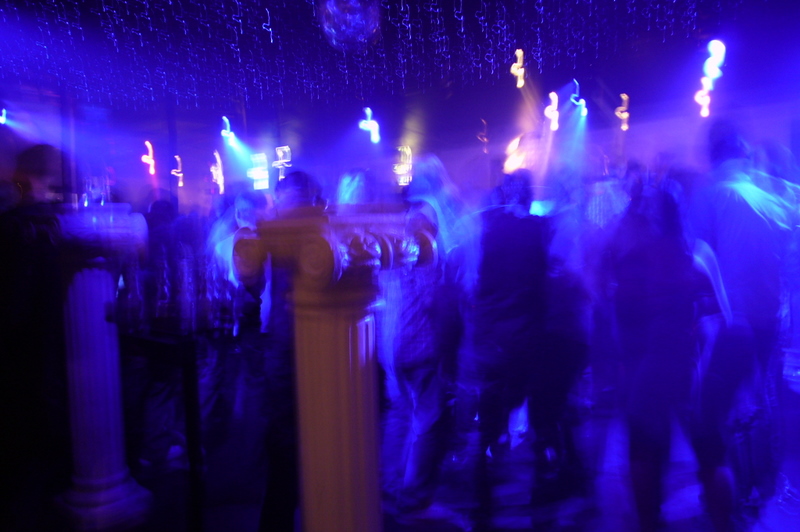 Critical questions have been asked whether eco-clubbing is a marketing gimmick or whether the initiatives are really helpful. How much electricity does a club use? Some calculations asume that even if 50 people danced non-stop for 365 days a year, they would produce only about 14 per cent of the club's electricity consumption.