Developing Sauna From Finland concept: Networking and co-operation between different industries
Developing Sauna From Finland concept: Networking and co-operation between different industries
The Sauna from Finland concept aims to create new types of business activity in Finland, and profile Central Finland as the Sauna Province. The Sauna from Finland started as a network but the co-operation strengthened between the different actors to a level which led setting up an association around the concept. The goal of the association is to promote Finnish sauna culture, support the development of services connected to sauna and support and carry out new entrepreneurships. The concept aims to bring together actors from different business sectors (e.g. sauna industry, tourism, wellness/wellbeing, service sector) to create new types of business activity. Founders of the Sauna from Finland association are Design Forum Finland (www.designforum.fi), Diges ry (www.diges.info), Harvia (www.harvia.fi), Jykes (www.jykes.fi), MARK (www.mark.fi) and SunSauna (www.sunsauna.fi).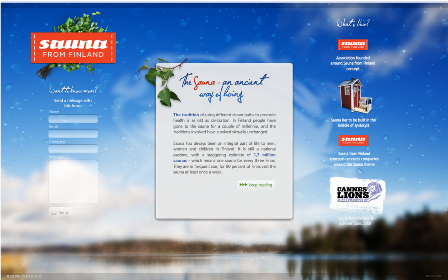 According a study made by Jyväskylä Regional Development Company Jykes in summer 2009, businesses in the area believe that sauna theme can create more positive image of the region. In addition, the theme was seen as a possibility to improve the competitiveness in the area by motivation business and product development. The Sauna from Finland theme was also seen as overarching theme for marketing. (Harju et al., 2009.) Stakeholders in the area mentioned the sauna manufacturers and their important role in interviews when they were talking about the area as sauna region. For instance, sauna stove manufacturer Harvia has its facilities in the area. Interviewees found that the concept of Sauna from Finland can be a supporting factor in product development processes. In general, the importance of product development was emphasised, and in addition to sauna products water activity services were mentioned. There were ideas how sauna could be highlighted in the area. These ideas included a development of sauna village or a sauna museum. In addition, companies in the area are interested in using the Sauna from Finland concept in order to find new target markets for their products and new business activities focused around the sauna theme.
The operations of the Sauna from Finland network include stronger cooperation among stakeholders e.g. in discussing future development themes and network promotion.  At the moment, there is an ongoing process on developing business ideas and starting networking projects, for instance, a development of a common export concept created around the sauna theme.
The cooperation is promoted by organizing different events around sauna theme for stakeholders. These meetings and events are called "sauna evenings". These includes short seminars around diverse topics connected to sauna such as health effects of sauna or how silence and sauna can be used as a resources in tourism product development. These sauna evenings end to a possibility to test different saunas as the meetings are organized each time in different (tourism)businesses.
Involving customers and users in content development
Sauna from Finland is a concept aims to create new memorable service innovations connected to sauna. In Jyväskylä region local residents were interviewed to get more aspects and ideas to Sauna From Finland process. Jyväskylä Regional Development Company Jykes Ltd and the newspaper Keskisuomalainen organised  a competition connected to Sauna from Finland concept. This was targeted mainly for the readers of Keskisuomalainen. The competition was implemented during the summer of 2009. The competition aimed to collect different sauna stories and pictures from local people. These personal experiences, stories and pictures about saunas and sauna culture can possibly be used later on in the Sauna from Finland concept and product development (www.ksml.fi/sauna).
Interviews made in Jyväskylä region showed that several stakeholders highlighted Sauna from Finland as an excellent example of a good product development process lead by network with several actors.  It was evident that there was a clear call for this kind of network based product development work in future.