Drive together
Drive together
Nowadays new organizations are arising that match people with extra seats in their car with people who need a lift.  It is especially young people who find it useful to share the costs of travelling and perhaps cultivate new friendships during the trip.
One of the most successful is "Mitfahrtgelegenheit" in Germany with more than 1.3 million trips organized every year. With affiliates around Europe it is possible to organize cost and carbon saving trips across borders. This and other organizations host a community, enhancing discussions and sharing experience among the users.
Austrian www.drivetogether.at  also announces whether the trips are for smokers or not. This organization has an RSS-feed attached to the site, so that responses to requests can be registered immediately on a computer or Smartphone.
Swedish www.roadmate.se, which has car rental company Hertz as a primary initiator, refers to the carbon targets. It is all about sharing resources, according to the organization. Hertz also uses the site to announce "drive-back" offers to students. British liftshare.com is in it for the reduction of congestion on the roads.
UK based Freewhelers.co.uk is assisting people who want to make it to festivals and other events to find a lift or to find companions to share with.
Car-sharing emerged as a business concept in the early 70's. With the Internet it is emerging and growing. The organization claim that users want not only to save money and increase mobility, but also to be a part of a solution to global warming.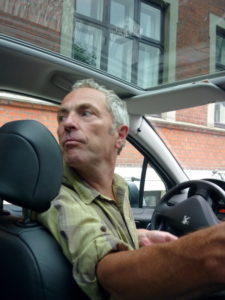 See also:
Autostop in France and wider
Taxistop in Belgium
Sharcom in Switzerland