Fogo Island Inn – a community innovation project
Fogo Island Inn – a community innovation project
Fogo Island is in a not particularly crowded part of Canada, in fact, tourists seldom come to visit the little community. Something has changed with the development of Fogo Island Inn. The Inn is the cornerstone of a community wide revitalization process, and nearly everybody in the small island has participated in its success. The development had been dramatically negative for the community for a number of years, due to restrictions and difficulties in the fishing industry.
The Inn, only with 29 rooms, is owned by a foundation, meant to plough all surplus back into the community. The idea is created by a local fisherman's daughter Zita Cobb, a successful IT entrepreneur. She decided to come back and invest her fortune in the Inn. In the establishment people from the community participated with their services in the building process. Decoration was neatly addressing the local handicraft specialties, and contributions make up a special atmosphere and celebrate valuable traditions.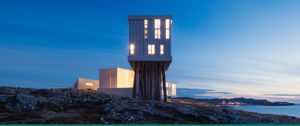 The building itself was designed by Todd Saunders, a Newfoundland and Labrador native who became an international architecture star now settled in Norway. The shape of the Inn reflects some of the structures and fishing community aesthetics found on Fogo Island. The construction is sustainable in the choice of building materials, technical solutions etc.
Food and other raw materials are predominantly sources from local suppliers, some of them gathered in the surrounding nature areas.
A tourist at the island is not only a customer in the Inn, but also a guest in the community. Many locals are willingly undertaking the tasks as spontaneous tourist guides, and some are committing themselves more intensively to this task.
The Inn has created a new energy and trust in the local community, well assisted by the fact that Fogo Island has received numerous prices for its building, the food concepts and the deep integration into the local community.
Brinklow, L. (2013). Stepping-stones to the edge: artistic expressions of islandness in an ocean of islands. Island Studies Journal, 8(1), 39-54.