Gamification and viral marketing
Gamification and viral marketing
Norwegians like to ski. And Visit Norway wants to attract tourists who are keen on the sport. And to increase knowledge about what else Norway has to offer.
I order to drive more traffic to the Visit Norway website and to cater for the interest of sponsors and advertisers, Visit Norway created a game site connected to the famous Holmenkollen Ski Jump Station outside Olso. The game can be played online on Facebook and downloaded on devices. It was first launched in 2006 and then with the redesigned ski jump hill in 2009, the place has created 800 million virtual jumps. The gamers can compete against others. They will try a jump that most people will never try in real life. It is hard, but here easy. It is social but also serious enough to create a continuous attention.
Games like the Hollekollen Ski Jump give instant feedback. After choosing the language the player can start. Wait for good wind conditions and then the player can steer the take-off. The stance can be influenced by the curser key. After the landing the player gets credits for the ski jump. After two jumps the player is able to share his result on facebook and twitter and can recommend the game to his friends directly by email. It is also possible to show it in the players' own blog.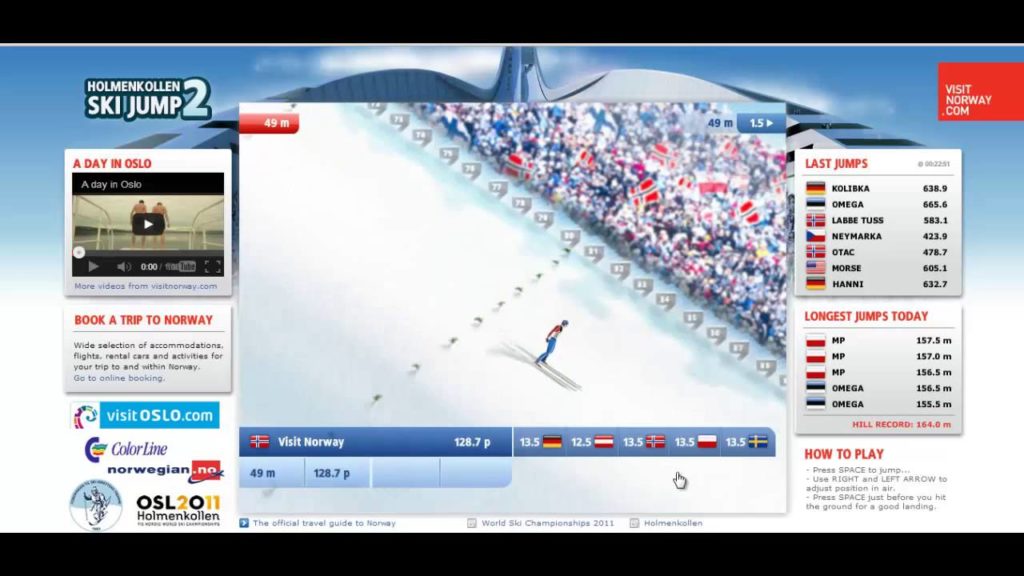 This is the viral part of the game and meant to attract attention to skiing and other tourism activities in Norway. And to stimulate a loyalty. An emotional bond is created, also to sponsoring enterprises.