Hotel design and co-branding – Microsoft style
Hotel design and co-branding – Microsoft style
The hotel market is a highly fragmented area, where companies seek ways to develop new and innovative customer centered products and solutions. Hotels do not only invest on innovation, but also on creativity in order to differentiate themselves, offer unique experiences and reach high levels of customer satisfaction. Hotel design, luxury, comfort and social space are critical elements that influence travelers' decision.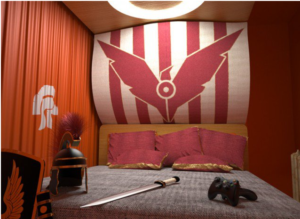 Xbox One Hotel in Paris is designed for game passionate people. The Hotel is a Microsolf  partnership, Xbox being a popular product. With Xbox One, Microsoft bets that it can go beyond traditional gaming, and the co-branding with the hotel product is supposedly increasing the markets for both. The Xbox One Hotel opened to the public on November 22, 2013, the same day that Microsoft launched its new console. The Hotel O, which belongs to the Elegancia hotel group and was originally designed by Ora Ito, has been entirely redecorated for the occasion.
What better way to show your love for a product by staying at a hotel that shares the same name. This hotel is only and Xbox place on a temporary base, as Microsoft geared up to launch their Xbox One console. In this hotel known for its minimalist design and high-tech equipment, Microsoft offers guests an immersive experience in the world of Xbox gaming, but only for a short period of time, after which the hotel changed back to normal.
Naturally, guests at the hotel had the possibility to try out the new Xbox One, solo or online. Xbox fans could test the console's new features, such as voice commands, motion controls, VOD and music streaming.
The hotel bar, which was open to the general public, created special cocktails inspired by Xbox games, such as the Abyssum-Ryse, with Guignolet kirsch and cumin liqueur, or the All in One, with vodka, Japanese green melon liqueur and natural cola.
Certain rooms were decorated in the theme of popular Xbox games, such as Ryse or Forza Motorsport 5.