Hvidbjerg Strand Holiday Park – Design and Architecture
Hvidbjerg Strand Holiday Park – Design and Architecture
Architecture makes a different. The market for wellness has been on the rise throughout the years. It has been immensely popular to relax in the sauna or the body heat pool with mineral-bearing water. The services keep developing with e.g. different kinds of massages or therapies. It is effortless to spend an afternoon in a laid-back position or to spend an evening with friends in a new way.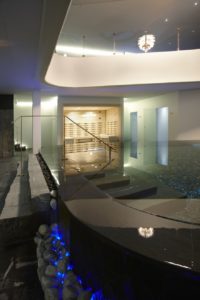 But wellness is also an area, where you can expect constantly increasing competition from now on.  Hotels are expanding their services, and a lot of public swimming pools now offer wellness areas. As well as the increasing competition, reports from the international wellness industry show, that wellness is one of the first areas people cut down on during economical depressions. This may not bode well for the wellness industry in the current economical climate.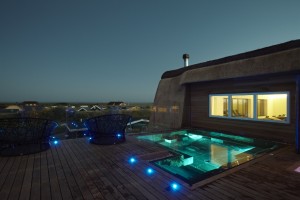 Hvidbjerg Strand Holiday Park initiated the creation of a great wellness centre in 2009. The management seeks to be one step ahead of potential competitors in the area. They have an auspicious foundation, as the holiday park has around 300.000 overnight stays a year. However, architecture and design are important elements if you want to stand out from the crowd, so the visitors will be impressed by the atmosphere and tell others about it.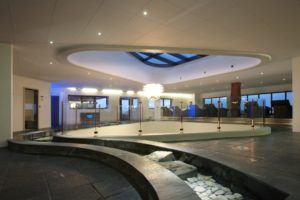 Hvidbjerg Strand Holiday Park focuses on the following:
Views: From the wellness area there is an ocean view. The open spaces, the horizon and the daylight inspire relaxation which is an important element for well-being.

Rustic implementation: The design style is consistent with the surrounding nature, and great care was taken when choosing the marble and granite to be used in the center. This results in the centre's interiors matching the ruggedness of the local landscape. There is no doubt that the centre is inspired by the Nordic environment.

Socially inviting: The centre is equiped with cosy and inviting areas where socialising is relaxed and enjoyable, for example around the fireplace, in the pool or in the sauna. There are also areas where you can be alone.
Sustainability: The Holiday Park has been rewarded by Realdania for doing something extra to reduce the emission of CO2 in relation to the physical and functional settings of the buildings. The wellness centre is CO2 neutral due to a geothermal system and a great solar collector.
The architectural firm Arkitektfirmaet Vest in Nørre Nebel is behind the wellness centre. They worked closely with the management and employees at Hvidbjerg Strand Holiday Park in designing the centre.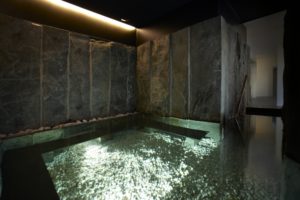 http://www.ark-vest.dk/index.php