Innovative tourism ingredients in city planning
Innovative tourism ingredients in city planning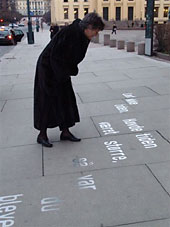 Ibsensitat – "quotes by Ibsen" is high culture on a street level. It is a piece of art created by two artists, and supported financially by a banking foundation. Henrik Ibsen was probably the most famous Norwegian author and playwright. The project is about spreading the knowledge about his work. Quotes from Ibsen's work are molded into the pavements in the main streets of Oslo.
On the projects website of the project everyone is invited to make suggestions to the citation project, discussing their favorite passages.  They are asked to explain their motivation and thus contribute to a further evolution of the project. The quotes are in Norwegian, but they may rouse the curiosity of visitors that don't speak Norwegian.
The artists have worked with similar project in Stockholm, covering the work of Swedish author August Strinberg.