Multi-functional golf courses
Multi-functional golf courses
In many countries, golfing is a very exclusive sport, both in the sense that it can be expensive, but also in the sense that the activities take place at large areas, dedicated to the purpose. It is not uncommon that golf courses are fenced spaces without trespassing for non-players.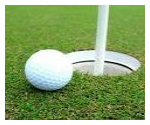 The Scandinavian Turfgrass and Environment Research Foundation has envisaged that the golf courses represent environmental and leisure potentials far beyond the players. In 2011, the organisation published new guidelines for the golf clubs to better align with a need to open up for a multi-functionality.
The guidelines include a number of conceptual innovations, which may be taken on board by the single golf course.
An important issue is biological diversity. Many golf courses could without compromising playing quality integrate flora and fauna diversity; allow water ponds, rough areas, small forests etc. Grass cutting and fertilizing procedures can be changed to support such strategies.
Leisure diversity implies using the courses for other purposes, for example during the winter season. With an appropriate safety planning, golf courses may contain walking and bicycle trails, picnic areas etc.
The guidelines include a long list of potential diversification for golf courses, for example:
Agility for dogs
Allotment gardens
Arboreta (collections of trees)
Archery
Bee-keeping
Bird watching
Boule
Bowling
Cinema evenings
Dancing courses/events – zumba, salsa …
Dragon flying
Exhibitions
Fashion shows
Fitness training
Football golf
Frisbee golf
Guided tours (nature, culture, archaeology)
GPS navigated games
Gymnastics
Hiking
Jogging
Marathons
Mini golf
Model airplane flying
Model boat sailing
Mushroom collection
Orienteering
Putting competitions
Riding
Skiing
Tobogganing
Yoga
Wine tasting
In some regions golf courses are approaching a situation of overcapacity. The measures mentioned here can be seen not only as an attempt to open towards environmental agendas and the needs of other leisure users, but also as a means of financial survival for the clubs. The guidelines emphasise the needs for new collaborative structures and changed attitudes to ensure a success with this endeavour.
The guidelines refer to some golf courses that have worked with diversification strategies:
Arendal & Omegn Gofklubb, Norway
Hässelby Golf, Sweden
Kjölur Golf, Iceland
Kristianstad Golf, Sweden
Københavns Golfklub, Denmark
Oppegård, Norway
Smørum Golfcenter, Denmark
Golfbaan Spaarnwoude, The Netherlands