Multimedia interpretation in tour busses
Multimedia interpretation in tour busses
German guiding enterprise Video Bustour has come up with a multimedia solution on the busses. It increases the possibilities for interpretation. Thus, when on tours passengers are accompanied by historic film footage, photo­graphs and audio material, while unique Movie City tours take them round to original filming locations and show excerpts from the movies on-screen. Other tours focus on historical sites pictures can show the quests how Berlin looked in the past  while observing the new city developments.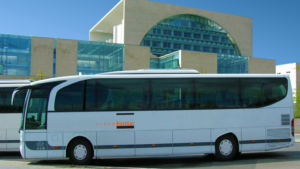 The innovation has a quite long history Zeitreisen Event and Project Management and Tourism Media Productions joined forces in 2003 to create this new and unique tourism product.
Videobustour underlines the following about the impact of the intiative: "We were able to reach new target audiences, thus increase substantially the use of coach tourism in their region. These new audiences were often found to be younger, more well-off and higher educated. In addition, a Videobustour is able to activate local resi­dents as sightseeing customers because the increased level of information and entertainment has made sightseeing in their own city an interesting past time."
The development processes caused quite some struggle: "Because sightseeing in a coach appears to still have a slightly stayed reputation that does not quite seem to fit into a 21 st century world with social media and multiple television documentaries at any given hour.
However, we are convinced that Multimedia Sightseeing Tours will become the expected norm worldwide. Today we have already been able to win over the media-savvy "MTV Generation". "
Creating content is essential, and the enterprise finds it necessary to be in good collaboration with the state archives, which are in the possession of much the interesting historical material.
The project won a the IRU Coach Tourism innovation Price in 20111.