Ordering coffee at Starbucks
Ordering coffee at Starbucks
In average, Starbucks opens six new coffee outlets every day, and there are more than 10.000 shops in 39 countries.
Part of the Starbucks concept includes that users have the option to choose from a wide range of beverages, which includes coffee, available in various sizes, flavours, preparation forms, etc. Accordingly, customers can order Moccachino, Iced Venti no-water Americano and Double Tall nonfat extra hot Cappuccino – and many other specific coffees.
Service innovations have been prevalent to ensure that orders are executed properly and effectively. Starbucks assistants at the counter are trained to take the orders in a very specific way. The philosophy behind the processes is that it will be even more accurate and efficient if all users can order their coffee the same – standardized – way every time. Therefore Starbucks tries to "educate" the guests. The education partly takes place by distributing a small pamphlet – "Make It Your Drink" – with a guide on how to order coffee at Starbucks. And partly by ensuring that staff repeat the guest's order, so that the guest can hear it. Not the way the guest submitted the order, but in the "correct" way and in a voice seeking to be "friendly patronizing". The effect is that most guests, after some time, try to avoid a "reprimand" by giving the order in exactly the way that supports the Starbucks service process. For some guests using the Starbucks terminology develops into a game or sport, and when succeeding, it is a small victory that can be celebrated.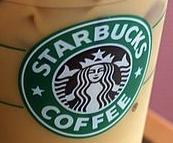 This Starbucks solution is a clever and elegant way to motivate the users to help to streamline the service process. The possibility of unsolicited customer created variance is reduced, but still without compromising quality. However, it is a prerequisite that Starbucks staff is able to handle the process in friendly and service oriented manner. It is a subtle balance to leave a "reprimand" without the quest feeling any offense.
An order "for here, grande, skinny vanilla, extra hot, latte" will therefore result in approx. 45 centilitre espresso with extra hot milk and sugar syrup with vanilla flavour served in a ceramic mug to be taken at the Starbucks coffee shop… Enjoy your coffee.
This innovation case has been submitted by Søren Bechmann. You can find other cases and description of the service design discipline in the book "Servicedesign" by Søren Bechmann published by Gyldendal Akademisk (2009 in Danish). See also www.bechmann.info