Palya Art: product innovation in cultural tourism
Palya Art: product innovation in cultural tourism
Helen Read is a pioneer in the field of Australian Aboriginal art and cultural tourism. She is the founder and director of Palya Art and Palya Art Tours. Helen's aim is to help improve cross cultural understanding and bring an income to artists and their families in remote communities [1]. Through Payla Art Tours, Helen seeks to enhance the enjoyment and understanding of Indigenous art and facilitate a better understanding of Australian Indigenous cultures. By promoting cross-cultural interaction through the arts, Helen strives to improve community life and the well-being of indigenous Australians.
Through Payla Art, Helen has taken Indigenous Australian art around the world with exhibitions curated from remote area art centres, and touring exhibitions from her own collection [1,2]. Palya Art presents exceptional collections of artworks which are sold for, and on behalf of, indigenous Australian artists [2]. As Founder and Director of Palya Art Tours, Helen also provides access to remote communities and forges interactions with artists, cultural custodians and community Art Centres [1,2]. Palya Art Tours provides tours to isolated indigenous communities in northern Australia, in cooperation with indigenous community councils and artists [2]. The tours are designed for people with an interest in Aboriginal art, offering the chance to meet the artists and discuss the meaning behind their striking and diverse artworks, and gain insight into their unique culture [1,2].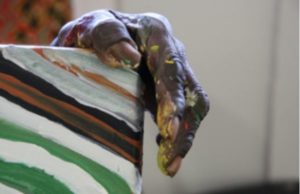 Palya Art Tours has introduced thousands of people to Indigenous people's diverse cultures, country and to the custodians through whom Aboriginal art springs [1]. The tours bring people with means, skills and influence out to meet Indigenous artists in mutually respectful circumstances – visitors span policy makers, medical researchers, philanthropists, academics, art collectors, journalists, institutions, curators and gallery keepers [1,2].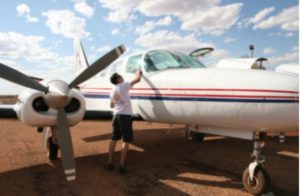 Helen's tours bring much-needed income to the communities through art sales, and significant artworks continue to be placed into institutions for public viewing both in Australia and abroad. The fundamental guiding principle is empowerment: "to increase the resources in communities so that people… can choose to maintain traditional cultural ways or go the dominant cultural way or have both. It's about having a choice." [3 circa 20:45]
Palya Art Tours is an example of "product innovation" [4]: Helen's tours deliver a unique visitor experience by forging links between art, culture and place. It is also an example of "paradigm innovation" [4] in reflecting a fundamental shift to sustainable tourism. When local stakeholders are disempowered, tourism is not sustainable. By operating from a basis of cultural respect, and sensitivity to the needs of local stakeholders, the underlying mental model of Palya Art Tours is one of sustainability. That is, by respecting cultural values as the starting point in the delivery of tourism experiences, Palya Art Tours empowers indigenous artists and communities to determine how tourism occurs, and how they benefit from it.
References
Read, H. Helen Read. LinkedIn 2015  3 December 2015]; Available from: https://www.linkedin.com/in/helen-read-35a53634.
Payla Art. Palya Art. 2015  3 December 2015]; Available from: http://palya.com.au/palya-art/.
Read, H., Pioneer of Aboriginal art tours, Helen Read, in Radio National: Books and Arts. 2015, Australian Broadcasting Corporation.
Tidd, J. and J. Bessant, Managing innovation: integrating technological, market and organizational change. 5th ed. 2013: John Wiley & Sons.
 Recommended Citation:
Reid, S. R. M. (2015). "Palya Art Tours: product innovation in cultural tourism." INNOTOUR Innovation Cases. from https://www.innotour.com/innovationCases/?p=3262