Redevelopment of obsolete infrastructure – a tropical aquapark in a former gigantic hangar
Redevelopment of obsolete infrastructure – a tropical aquapark in a former gigantic hangar
Originally the gigantic hangar was build as a garage for a huge airship that was meant to transport unwieldy articles that otherwise had to be transported on a float of trucks. But the project was never realized. The enormous hangar was built, but the airship was never built and the company behind the project went bankrupt.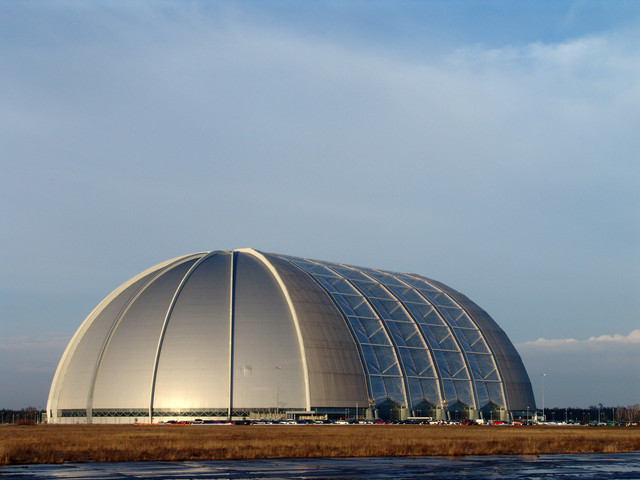 What are you supposed to do with such an enormous hangar? How is it possible to make use of an enormous hangar in the middle of nowhere? A Malaysian entrepreneur and businessman created and launched the idea to convert the hangar, at the closed down Russian airbase, into the world's biggest tropical aquapark: Tropical Island.
The aquapark opened to the public in December 2004 and in 2006 more attractions were added for children and families and in 2007 a second phase of expansion was completed with a unique spa and sauna complex.
Tropical Islands is more enormous than one can imagine. With 66.000 m2 the hangar is one of Germany's largest buildings. The aquapark is 360 meters long, 210 meters wide and 107 meters high and has a capacity of around 6.000 people. The aquapark offers a huge water park with a beach with chalky white sand and beach chairs seated close to the waving ocean, waterfalls and huge water roller coasters and an amusement area with e.g. miniature golf, a rainforest with tropical plants and a tropical village with themes from Thailand, Borneo, Bali and Samoa and more than 11 restaurants and bars.
An aquapark has proven to be a crucial exploitation of the former hangar. Tropical Island is not only a massive tourist attraction; the aquapark also creates employment in the part of the fed
eral state where the level of unemployment unofficially is around 40%. Furthermore, 2.000 holiday houses close to the aquapark are under construction and the first holiday houses are planned to be let out in the beginning of 2010. So not only does the aquapark create employment the project also provide massive opportunities for development of the huge areas surrounding the building.
See more information about Tropical Island at the following website: http://www.tropical-islands.de/