Self service spa pampering
Self service spa pampering
The Anttolanhovi Wellness Village is situated on the shore of Lake Saimaa in Finland. Anttolanhovi aims to bring Finnish know-how, such as art, design furniture, and locally produced food to the spa experience.  As a response to both the demands of the customers and the need to ensure financial sustainability, the enterprise attempts to develop high class and quality to a a self-service concept.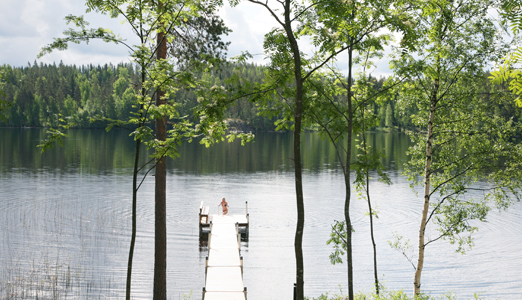 A distinct concept is the 'wellness bar' (following the idea of minibar), which can be found in all villas. The bars are filled with Finnish wellness and well being products from Lumene and Cutrin (both labels owned by LUMENE Oy). The intention is to give customers the possibility to pamper themselves in the villas. Skincare products come from Lumene and hair care products from Cutrin. All the products are manufactured in Finland. It is also possible for guests to buy these products from the Anttolanhovi shop.
Lumene was the first cosmetic business that used berry oils in cosmetic products. The primary raw materials in their products are cloudberry, blackcurrant, cranberry, blueberry, lingonberry, birch, linen, heather and peat. All the raw materials are gathered from arctic areas – the plants and berries accumulate nutrients and vitamins during the short and intensive growing period. Studies have shown that arctic berries are rich in antioxidants, vitamins and essential fatty acids (omegas). Lumene aims for their products to include at least 80% natural ingredients. The company also cooperates with The Finnish Association for Nature Conservation and Allergy and Asthma Federation, which is a non-profit public health organization. Cutrin's products are designed especially for Nordic hair types and they contain ingredients similar to those in the Lumene products.
Customer feedback on the wellness bars has been very positive. The hotel manager of Anttolanhovi declares that the products of Lumene and Cutrin are supporting the whole business concept of Anttolanhovi. The co-operation started when the hotel manager of Anttolanhovi had a meeting in the Lumene factory and got a positive reception to the wellness bar idea. After presenting the idea to Lumene, she consulted with Lumene on which products would be suitable for the wellness bar. At the moment, the co-operation can be observed on the spot in Anttolanhovi as an active example of co-branding. However, neither of the businesses mention the co-operation on their websites.