Snapchat in the museum
Snapchat in the museum
Tourism attractions are joining social media in order to provide enjoyable extensions for guests and to in order to diversify communication and marketing. The Los Angeles County Museum of Art (LACMA) is found to be the first museum to embrace Snapchat.
Snapchat is a smartphone-only social network that allows users to broadcast photos, video, or hybrid images to friends and fans around the world. While users can take photos or create short, 10-second videos that disappear directly after being viewed, they can also create composite "stories" that remain on the app for up to 24 hours and allow for repeated viewings.
LACMA launches new and entertaining pictures of the pieces of art on Snapshot, and even antiques can be surprising from certain angles. The museum finds that creativity and humor can attract the young generation of museum guests who are a main target group for the museum. The guests often make screenshots and the pictures go viral on other media, for example Instagram, Facebook and Twitter.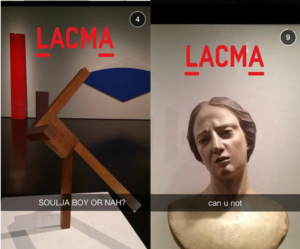 The museums experiments with combining pictures and videos of museum objects with manifestations of popular culture.
The managers of LACMA hope to attract more guests to the museum with the Snapshot initiative.
How to use Snapchat