Spherical eco-lodges
Spherical eco-lodges
Facilities for tourists – accommodation, catering etc – in nature reserves represent a major and complex design challenge. There is a need to minimize the negative impact on the ecosystems. Simultaneously tourists look for the unique experiences in extraordinary surroundings, not compromising the comfort and accessibility. Increasingly, tourists emphasize the sustainability dimensions and recognize when providers make an extra effort creatively to combine the needs for humans and for nature.
A plan to construct spherical eco-lodges that hang from the trees is such an endeavor. Architects are Cole Company. The idea is to allow visitors to observe and immerse themselves in the flora and fauna of the Nam Et-Phou Louey Biodiversity Conservation Area in northern Laos. Suspended lightweight bamboo sleeping pods give guests a protected and unique place to sleep. The ultimate experience is to be able to observe the area's endangered tiger population.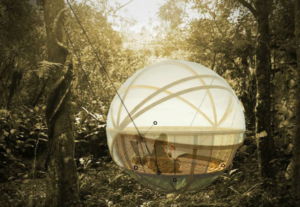 The conservation area offers guest a range of opportunities for existing visits, including trekking, night safaris etc. The spherical eco-lodges build another stone on the product.
The project is planned to be located near the village of Nam Poung, and it is claimed to create good jobs for local villagers.
Nam Et-Phou Louey Biodiversity Conservation Area won the 2014 World Responsible Tourism Award. The motivation was distinctive attempts to connect conservation with tourism.