Spirit House: Reconceptualising Restaurant Dining
Spirit House: Reconceptualising Restaurant Dining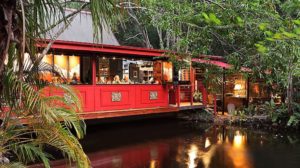 Spirit House is an innovative Thai restaurant and cooking school located near Yandina on the Sunshine Coast in Queensland, Australia [1]. The restaurant aims to recreate tropical Asia and deliver an authentic and memorable Thai dining experience. A Spirit House is a shrine to Thai animist spirits and is designed to bring peace and prosperity to the homes or businesses they adorn [2]. The restaurant is situated in stunning tropical Asian gardens, adorned with tranquil ponds, a waterlily lake, statutes, secluded courtyards and paths. The restaurant building consists of indoor-outdoor rooms connecting the interior with the external setting; all the furniture, artworks and carvings were sourced from Thailand to enhance and reinforce the Thai dining experience. As Australian Gourmet Traveller [3] describes: "Spirit House shouts "special occasion" from the moment you arrive through its gateway arch." It has won numerous awards and accolades including three time winner of "Best Restaurant – Sunshine Coast", a finalist in the "Best Restaurant Queensland" and recipient of the American Express Hall of Fame Award for Tourism Restaurants [4].
In cultivating a dining experience going beyond the menu, Spirit House is an example of "product innovation" [5]. The extent of the experiential component is such that Spirit House could even be classed as a "paradigm innovation" [5]. Specifically, by reconceptualising dining as an element within a broader Thai experience, the restaurant delivers the far more than food – it delivers the experience of an imagined escape to Thailand, a shift that transforms the restaurant to a venue for entertainment and escape.
Recommended Citation
Reid, S. R. M. (2016). Spirit House: Reconceptualising Restaurant Dining. INNOTOUR Innovation Cases. From https://www.innotour.com/innovationCases/?p=3395
References
Spirit House. Spirit House. 2016  22 April 2016]; Available from: http://spirithouse.com.au/.
Travelfish. Thai spirit houses and spirit trees. 2016  22 April 2016]; Available from: http://www.travelfish.org/sight_profile/thailand/southern_thailand/surat_thani/ko_samui/3033.
Australian Gourmet Traveller. Spirit House. 2016  22 April 2016]; Available from: http://www.gourmettraveller.com.au/restaurants/restaurant-guide/restaurant-reviews/s/spirit/spirit-house/.
Spirit House. Spirit House Restaurant. 2016  22 April 2016]; Available from: http://www.spirithouse.com.au/restaurant.
Tidd, J. and J. Bessant, Managing innovation: integrating technological, market and organizational change. Fifth ed. 2013: John Wiley & Sons.