Starlight's Spectacular: Product Innovation through a Light and Sound Show
Starlight's Spectacular: Product Innovation through a Light and Sound Show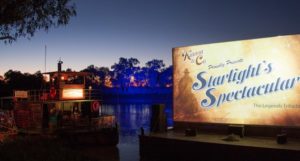 Starlight's Spectacular is a sound and light show offered by Kinnon & Co in Longreach, an outback community surrounded by huge stations raising cattle and sheep [1]. Kinnon & Co was originally a grazing enterprise, operating near Longreach since the 1950s [2]; however, the hardship of severe drought conditions prompted Kinnon & Co to became tour operators, accommodation provides and retailers [3]. Kinnon & Co now offer a variety of outback experiences including: traditional camp-oven dinners under the stars; horse-drawn coach rides; day tours to Nogo Station (a working cattle station); day tours to the historic town of Winton; and sunset river tours on the Thompson Belle Paddle-wheeler which stops at their latest innovation – Starlight's Spectacular Sound and Light Show [4, 5].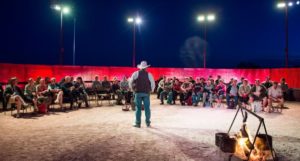 Startlight's Spectacular is a multimedia sound and light show set in a purpose-built amphitheatre on the banks of the Thomson River. The show tells the story of how Harry Redford (aka Captain Starlight) and his thieving gang of bush rangers executed the largest cattle theft in Queensland's history [3, 6] – they stole more than 600 cattle from Bowen Downs station in 1870, herding them about 1300 kilometres away [7]. In the Startlight's Spectacular show, the story "is retold in light and sound… in an authentic bush setting where the true spirit of the outback abounds" [6].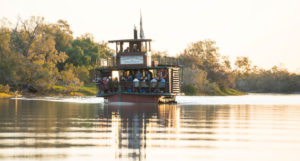 By combining aspects of stage show production with their established rural and cultural tourism experiences, Startlight's Spectacular is an example of a 'product innovation' [8]. Kinnon & Co. mainly implemented the show to complement existing products and enhance interest for repeat visitors [3]; and the innovation has enabled packaging with other elements of the tourism business, widening the appeal of their products and supporting increased custom and revenue [3].
Recommended Citation
Reid, S. R. M. (2015). "Startlight's Spectacular: Product Innovation through a Light and Sound Show." INNOTOUR Innovation Cases. from https://www.innotour.com/innovationCases/?p=3302
References
Longreach Regional Council. About the Region. 2015  10 May 2015]; Available from: http://www.longreach.qld.gov.au/general-information.
Kinnon & Co. Kinnon & Co.: About Us. 2015; Available from: http://www.kinnonandco.com.au/About.
QTIC, Tourism Business Success Story: Kinnon & Co, Outback Queensland. 2013, Queensland Tourism Industry Council (QTIC): Brisbane, Australia.
Kinnon & Co. Kinnon & Co.: Our Experiences. 2015  8 May 2015]; Available from: http://www.kinnonandco.com.au/OurExperiences.
Kinnon & Co., THE TRUE HEART OF YOUR OUTBACK EXPERIENCE: Kinnon & Co. Longreach. 2015, Kinnon & Co.: Longreach, Australia.
TPD Media. KINNON & CO – STARLIGHT SPECTACULAR. 2015  8 May 2015]; Available from: http://www.tpdmedia.com.au/wp/corporate/kinnonco/.
Cowper, L. Muttaburra History: Harry Redford. 2003  9 May 2015]; Available from: http://www.muttaburra.com/history/historicmilestones.php?page=1.
Tidd, J. and J. Bessant, Managing innovation: integrating technological, market and organizational change. Fifth ed. 2013: John Wiley & Sons.