Stricktly politically incorrect skating
Stricktly politically incorrect skating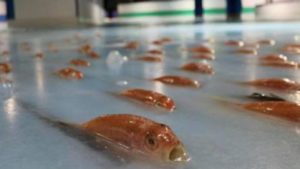 Photo: Show Hirata Facebook
Theme Park Space World in the Japanese town Kitakyushu let 5,000 of (already dead) fish freeze into the ice-skating rink. Many different types, the ideas being that, enjoying the fun of skating, the visitors would get a nearer to natural impression of the oceans and learn about fish. The fish were artistically organized in the ice.
However, both wildlife protection enthusiasts and other people from around the world became furious, and the social media flooded with attacks on the management. Comments ranged from "poor" taste, to wider accusation for violating the animal protection regulations.  Some contributors to the debate thought that the fish were frozen alive, but that was not the case. Visitors urged others to boycott the park.
The amusement park chose to react by closing the skating rink and remove the fish again. A ceremony was even considered to be held for the dead fish.
The Japanese press announces that the theme park has run into financial trouble, partly as a result of the event, and it is planned to close down in 2017.
Under the label "dark tourism", many other attractions succeed better in exploiting the chocking effects of politically incorrect offers. Visitors are no longer interested in the quiet contemplation and habitual use of objects. They want to have an "experience", death being a most effective instrument  in the tool box. It is question whether the Japanese theme park would have gained momentum if it had chosen to ignore the storm of protests.
Recommended reading:
Biran, A., & Poria, Y. (2014). Reconceptualising dark tourism. Sharpley, R. & Stone, P. (eds) Contemporary tourist experience: Concepts and consequences, Routledge, 27, 59.
Daugbjerg, M. (2011). Playing with fire: struggling with 'experience'and 'play' in war tourism. Museum and Society, 9(1), 17-33.
Deffner, A., Metaxas, T., Syrakoulis, K., & Papatheohari, T. (2009). Museums, marketing and tourism development: The case of the tabacco museum of Kavala. Tourismos: An International Multidisciplinary Journal of Tourism, 4(4), 57-76.