Survival app for nature adventurists
Survival app for nature adventurists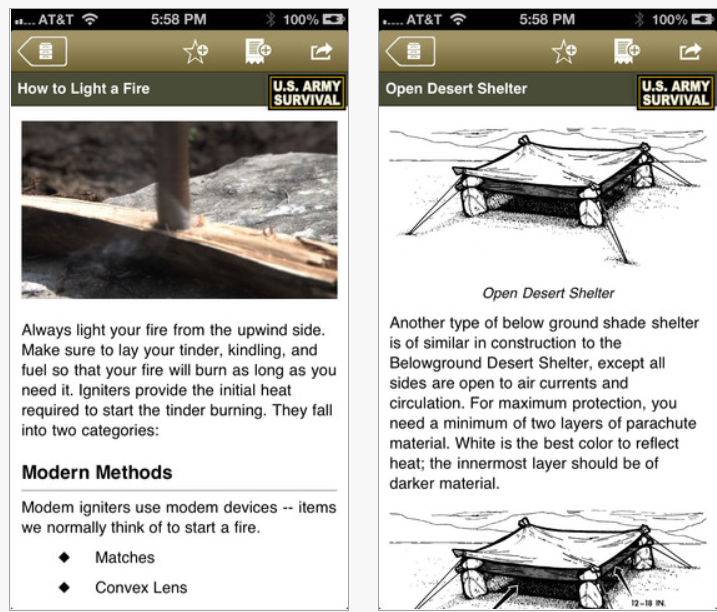 Applications for mobile phones and tablets are increasingly replacing paper based information systems and guiding services in tourism. It is a market with a flourishing creativity, and each day new apps are introduced.
Army Survival is an app for iPhone and iPad. The aim is to increase safety and experience for adventure tourists and travellers. It is inspired by methods used in the U.S. Army, who knows how to train their personnel to survive. This app provides an authoritative and complete reference guide on basic survival, evasion, first aid and recovery information, and the app is good example of how military practice can inspire and feed developments in civil life, including tourism.
Army Survival includes a whole range of information on the following topics:
* Psychology of survival
* Basic survival medicine
* Shelters
* Water procurement
* Edible and medicinal plants
* Poisonous plants
* Dangerous animals, snakes, lizards, fish, insects and arachnids
* Field weapons, tools and equipment
* Desert survival
* Tropical survival
* Cold weather survival
* Sea survival
* Direction finding
* Signaling techniques
* Predicting weather
* Ropes and Knots.
The app is not related to any specific location, but applicable mainly in temperate, tropical, arctic, or sub arctic regions. Outdoor enthusiasts may find themselves in a remote area— with little or no personal gear. This app provides information and describes basic techniques to enable adventure tourists to survive and return alive and healthy should they find themselves in such a situation.
The app is produced by Double Dog Studios. This enterprise has produced other outdoor apps.