Total Ski School – innovation for people with disability
Total Ski School – innovation for people with disability
The non-profit organization Totalskidskolan ( The Total Ski School)  is in itself not new, but it is quite unique and has developed in more recent time since moving its base to Åre. Totalskidskolan is a ski school that welcomes all skiers with a permanent disability – visual, physical, mental or learning. The target groups should not be denied the joy skiing.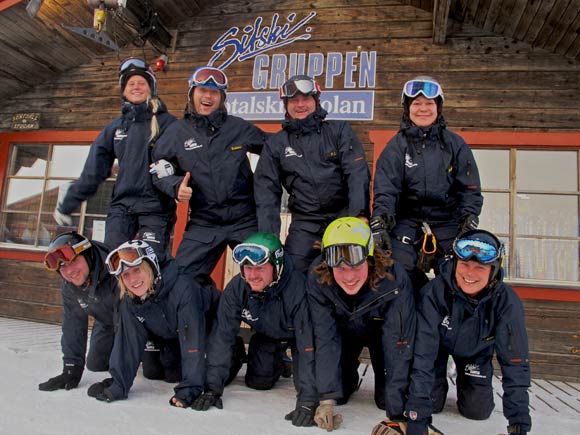 The working goal is that skiing is for everyone. Anyone who has the interest will be provided with the opportunity to experience the speed, snow, mountain environment, joy and excitement of skiing. The organization arranges kids' ski camps, youth weeks and ski school weekdays during the winter season. A significant amount of work has been done to develop equipment and methods that compensate for any handicap.
It is important for the organization that expensive equipment is not a hindrance for the participant. A financial organization ensures that special arrangements and equipment do not effect the price he/she pays. The price paid is the cost that other visitors to Åre pay for their ski school and hire of equipment. A token is given to Totalskidskolan which then hence subsidizes the costs. The methods and philosophy have been an inspiration to many other countries worldwide.
The history of Skidskolan illustrates the importance of creative people. Ski enthusiast Anders Ohlsson broke his back in 1976. "Anders and his friend Theo started to construct a device to fix Anders legs in a stance suitable for skiing. They soon discovered that their device was not safe for skiing in fact it was the complete opposite. They began to develop ideas for a ski with a seat –a sitski. Around the same time in America the modern sitski was showcased in a Disability magazine. In 1987,  Sitskigruppen was founded under the management of SLAO (Swedish Lift Areas Organisation)  with finance from Allmänna arvsfonden and sponsors. The project was a success an when it ended in 1992, Anders immediately started a new project that was planned to last 3 years until 1995. Demand for sitski course was huge and during the first project we had become aware that there were many other people with disabilities that wanted the opportunity to ski. Skiing was now available to all whatever their requirements. This project was called Sitskigruppen Totalskidskolan."
In 1996  Totalskidskolan took part in a project with Handikappinstitutet and Allmänna arvsfonden to create a richer leisure time for people with disabilities. Totalskidskolan built up a material pool to satisfy the need for leisure equipment for winter sports. The project finished at the turn of the year 1998/1999. Totalskidskolan continues to run the hire pool of equipment acquired during the project to satisfy the need for winter equipment.