Utilizing farm buildings for tourism
Utilizing farm buildings for tourism
Over the past few decades, most European countries have experienced a rapid depopulation of rural areas, particularly such areas that are remotely located. This is mainly due to the difficulty in finding employment outside of agriculture. Not surprisingly, tourism appears to be a suitable economic activity that can be developed and enhanced in these areas. Many projects aim at attracting investments that can catapult a development process. However, external financing is generally hard to activate for small places.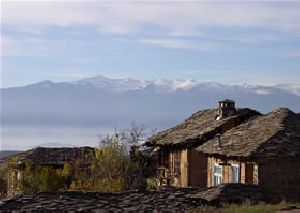 UNDP has given support to the high-altitude villages of Leshten and Kovachevisa in the Pirin Mountains in Bulgaria in order to combine the need for tourism jobs and for the preservation of culturally valuable buildings. The mechanism is fairly simple (and also used in other locations and by other funding bodies): the farmers are subsidized to renovate their farm buildings to accommodate tourists. The building work has to be done according to preservation standards launched by the authorities, otherwise reimbursement will be refused. The initiative is supported by professional marketing and promotion.
The renovations are important to attract tourists for longer than a day, as most people look for some comfort. A careful renovation which aligns with the building traditions of the area also adds to its visual attractiveness and assists the locals in establishing a pride in their area.
This transformation is often a long lasting process. The mentality and competences of the locals have to be reoriented. The renovations themselves are not sufficient to boost the number of visitors, catering, trails, attractions etc. must be established as well. A number of destinations endowed with natural and cultural beauty have successfully, over many years, completed the transformation from agriculture to agritourism.
The Canadian Tourism Research Innovation Project has compiled a list of research resources on the issue of innovative rural tourism development. The message is clear: It is of utmost importance for the local communities that tourism development takes place in a consistent and innovative way. Recent depopulation in countries with a very rich historic building culture, for example Italy and Greece, is a major challenge for authorities and communities.