Wallander walks in Ystad – staging a crime scene
Wallander walks in Ystad – staging a crime scene
Ystad is a small town, situated in southern Sweden. It is the scene of Henning Mankell's very popular detective novels with character Inspector Wallander, a cerebral, workaholic, hard-drinking loner. BBC drama series have used the town as a location with Kenneth Branagh in the starring role. Picturesque Ystad is becoming a "Crime scene", a fact that the local tourist board is attempting to use to attract curious tourists.
The "Wallander Studio" is now a tourism attraction. It includes the appartment of Wallander, the police station and the forensic lab. Visitors will see examples of film sets and shots.
A small guidebook takes the visitor through the town. It points out whereabouts of daily routes of Wallander, the café, the beach etc. The categories of coffee and pastry that Wallander prefers are also available to the tourists. Crime scenes on the town square, the church and on specific addresses in the town allow for a thrilling attraction, even if nothing at all will happen during a tourist visit to quiet Ystad. Fans of Wallander will find the locations of all their favorite novels in and around Ystad, and they will be helped by the tourist office in their search.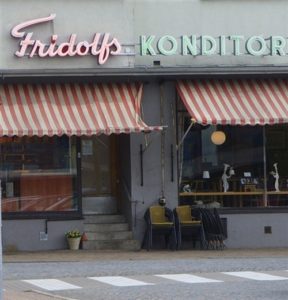 Carina Sjöholm has studied the construction and impacts of the "Murder walks" in Ystad. She has a focus on how authenticity in this context is translates into tourists innovations: ""During these murder walks, the concept of authenticity is revised, since fictitious characters and places are mixed with "real" ones. The participants in the walks embody the geography; they place themselves inside the fiction, and thereby transgress the traditional border between fantasy and reality, otherwise upheld in crime stories and movies." (page 156).
How are media-scapes created, marketed and sold? This is a complex process, with involves the tourists, who are also co-creating the experience. Their prior knowledge determines how they consume the place. Some of the tourists come to Ystad because of the films/series, and sometimes they do not know that the films are based on novels. Other tourists have the literary resource as a base. Sjöholm notes that these two groups approach Ystad in different ways. Authenticity in films is different than authenticity in novels.
The region is experiencing spinoffs of Wallander. Tourism enterprises lend from the concept, for example a summerhouse provider that claims to be located in "Wallander-land". Many restaurants are keen to demonstrate a role in the novels and films.
The Wallander figure has many fans around the world. Groupings on the Internet are crucial for as word-of-mouth marketing of Ystad and the rest of Southern Sweden. One such group can be found at Inspector-Wallander.org.
Sjöholm, C. (2010). Murder walks in Ystad. In Knudsen, B.T. & Waade, A.M. (eds): Re-investing authenticity. Bristol: Channel Views Publications. P 154-168.