Women in charge of tourism development
Women in charge of tourism development
COBATI (Community Based Tourism Initiative) is a non-profit tourism NGO, which supports local people in Uganda to participate and benefit from tourism and its related initiatives. It was started in 1998 by a community entrepreneur, Maria Baryamujura, who subsequently has been awarded for her innovativeness in terms of making idle resources in villages useful in a tourism context.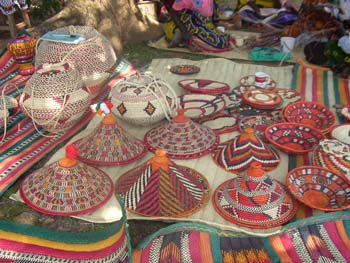 Social innovation is a main ingredient in the African initiatives. Collaboration, particularly with the local women is essential, and COBATI has set up a number of groups with the responsibility for the provision of craft based tourism, and the setting up of accommodation. "Local people are trained to understand that community based tourism in its widest form covers all kinds of activities and attractions found in rural areas, which are mainly, or incidentally, for tourism purposes. It is linked to poverty alleviation, and used to promote the diversity of attractions and activities mainly found in rural areas, and to generate income for the local people."
In an African context, external networks are as essential as local ones. COBATI needs strategic networks and partnerships at industry and market level. IT is also necessary to collaborate with various organizations interested in pro-poor tourism including SNV, AWF/ IGCP, and UNDP.
The products available are varied, but the homestay program is important, as it empowers village women. There is a network of over twenty village homesteads located throughout the districts of Mbarara and Bushenyi which are transitory to 7 of the 10 National Parks of Uganda, including the Mountain Gorilla sanctuaries of Bwindi and Mgahinga. A family of a village operates a homestay activity, and this provides them with an opportunity to earn cash without selling their land to developers or migrating to towns and city. The owners are trained by COBATI on how to be hospitable to visitors and hoe to keep their facilities clean and comfortable.
COBATI also works with the development of handicraft, also a female dominated activity. It is essential to base the handicrafts products on the specific traditions and knowledge in the area. The project works with the tapping of indigenous competences for the development of new designs in mats and baskets.
See also: Peeter, L.W.& Ateljevic, I. (2009) Women Empowerment entrepreneurship nexus in tourism: Processes of social innovation. In Ateljevic, J. & Page, Sp.J. (eds) Tourism and entrepreneurship. Oxford: Butterworth-Heinemann, 75-90.